Last week Palmer got a note home asking parents to create a Valentine's Day box for their child out of a tissue box. My first thought was to cover it in paper and then have him color it and add stickers. Problem was we didn't have any white paper large enough to cover it and we had no Valentine's Day stickers. I have been really trying to use the craft supplies that I have so I started looking through my stock. I found a big enough piece of red felt and it all started to come together.


Supplies:

Family size box of tissue, emptied
Enough red felt to cover box
Small scrap of white felt
Scrap of blue felt
2 Pipe cleaners
2 Pom Pom's
Glue Gun
*You can use googly eyes instead of felt ones

To start I wrapped the red felt around the box as if I was wrapping it and then trimmed the felt to fit. I covered the opening. Using the glue gun I glued the felt to the box. I folded the ends like wrapping a present. This made it a little bulky even when I trimmed parts of it so if I was to do it again I might try something different but it worked. Make sure to start and end at the back of the box. If you end at the bottom it won't sit quite straight. Once this was glued I cut the opening out leaving enough of an edge to glue the edges to the inside of the box. Then I cut small triangles out for teeth out of the white felt and glued those around the edges. I had planned to use googly eyes but the ones I had were not quite big enough and looked weird so I made eyes with more white and blue felt. I cut the pupils into hearts to make it more Valentiney. Once the eyes were glued on I glued the pom poms to the pipe cleaners and glued the pipe cleaners to the back of the box to make antenna's. That's it! It took me about 20 minutes start to finish and let me tell you Palmer loved it. When we took it to school one of the mom's asked if the monster was going to eat the Valentine's and Palmer responded, "no it's just a box" with a "duh" expression on his face. Oh boy.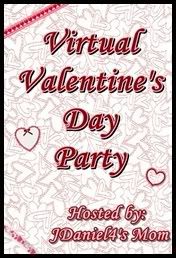 http://hopestudios.blogspot.com/2011/02/tutorial-tuesday.html
http://angieasplund.blogspot.com/2011/02/i-made-this-tuesday-13.html